Why does Alysia wear a flower in her hair during every race?
"The flower to me means strength with femininity," Montaño said in June after winning the 800m at the U.S. Olympic Trials. "I think that a lot of people say things like you run like a girl. That doesn't mean you have to run soft or you have to run dainty. It means that you're strong."
Struggle Bus. 🚌. I had a pretty busy weeks end with photo shoots and long days shooting and a toddler who was on a two day nap strike during this period. Remix music 🎵: Alysia Montaño😉•••••••••••••••••••••••••••• The workout I'd imagined I might be able to do was this👇🏾 "Fives" ( I really don't care about pace because I am not training for anything besides labor, but it helps for my buddy to know about what I think I could run at this stage in my pregnancy. I'll post the times I told him in) parentheses.. ✏️: Bolota was running with me to boost moral these workouts are chump meat for him, and this set here is him even slowing tremendously so to help boost my moral to just finish the rep. 5x400' (75's) ❗️3min rest in between each rep and sets 5x300 (53's) 3 minutes rest 5x200 (33's) 3minutes rest 5x100 (a little faster than astride) 🏃🏾‍♀️🤰🏾Actual workout I was able to do. ("Pace" in parentheses) 5x400 (75,77,80,85,90) 😂 (progressively slower... 🐢... stuck to the 3 minutes rest) 🚫5x300 ➡️2x300 (60,65) (yea... from 5 to 2x300 and 5minutes rest to reset and just move onto the 200's) 5x200 (40,38,39,40,39) this pace was easy and manageable on the dirt track. 🚫5x100 ➡️ 2x100 (easy) Just for a little turnover. My reflection: I'm happy I listened to my preggo body, decided to enjoy being able to run and was proud I didn't put any pressure on myself to do the workout I thought I could do because that's what I wrote down, there will be plenty of time for that on the other side. 😘 Moral of the story is listen to your body 😉🤗
When you just love running ❤️. Movement is life! •••••••••••••••••••••••••••••••••••••••• Did my short recovery run today and then Linnéa asked if she could run with me. I gave her all I had. This was the best run I'd ever had, aside from the 2 lapper I ran with her in my belly. •••••••••••••••••••••••••••••••••••••••• Today was the farthest straight solo run I have done by myself in this pregnancy. 30 whopping minutes! •••••••••••••••••••••••••••••••••••••••• In my first trimester runs were breathless, slooooow, lots of stop and walking and all together changing it up as I climbed out of that first trimester intervals were fun and gave me an extra energy boost obviously combating fatigue and nausea. And now as I roll into my 15th week I actually enjoyed a solo run for a straight 4 miles! Every pregnancy is different, but I am definitely proving to be an interval having, strength routine loving, stadium and hill conquering type of preggo runner mama. Kudos to all the mamas doing what they can!
Try this prenatal or post-natal overhead push press. I breathe down into my pelvis when the bar reaches overhead and pull up my pelvic floor to activate and strengthen my TA. Great for diastasis recti. P.s moving slower is better for this exercise watch my belly as the bar reaches the top, with lower weight you'll have better control. ⭐️START WITH 2 sets of 10 work to 3 sets within a cardio strength circuit. ➡️P.S. IMPORTANT DETAIL: that bar is in fact ROSE GOLD. Painted it to add some flare to my strength game 😝 • • • • #run #runner #running #fit #runtoinspire #fitmomsofig #furtherfasterstronger #seenonmyrun #trailrunning #trailrunner #runchat #runhappy #instagood #time2run #fanvee #instafit #happyrunner #runners #photooftheday #trailrun #fitness #workout #cardio #training #instarunner #instarun #workouttime #fitmom @fitpregnancy @healthy.pregnancy @pregnancyworkout
#Protip •Grab a workout buddy. •••••••••••••••••••••••••••••••••••••••••• Today was strength day for me. I had a ton of projects/ errands/ adult life to catch up on this morning and kind of felt slightly unmotivated to crush, but knew I'd feel better once I started. Louis had not been doing his best lately in planning in workouts with his schedule and it shows in his energy level/ productivity. We both needed a little help, so I decided to bring it back to old times and do a workout together while Linnéa napped. The workout can be found in the beginning of my insta stories I did 10 reps of each exercise 3 times through. ⭐️My focus is to be sure I hold good posture and activate my transverse abdominus muscles and my pull up my pelvic floor! Most all of my strength exercises are to prevent aches and pains later on in my pregnancy, so unilateral strength, back and core muscles, and leg strength to help support my weight as I get heavier. 💙This workout and many of my workouts are Low weight, high reps and sets. I just use the bar that I painted rose gold throughout this circuit. 😝
Feeling great on this Monday!! ❤️ Special thanks to my training buddy and friend Bolota Asmeron (2004 3rd place Olympic trials finisher and 2008 Olympic trials 4th place finisher in the 5K) 🙏🏾🙌🏾 I honestly can not tell you enough how much better the second trimester feels over the first! It's like the magic zone, for me anyway! I feel incredible energy and I can last longer and go faster with less effort on longer interval sets. If you remember in my first trimester I did not love going for runs as they were difficult and unenjoyable, but short interval sets were fun and easily handled! As a matter of a fact I was thinking I should do mile repeats today after the first set, I felt that great!!! (I wanted no parts of mile repeats for the first 12 weeks!) The workout I'll detail below is the same workout I did a few weeks ago, but now that I'm receiving that extra blood to match my expanded capillaries I've crawled out of the quickly-winded zone. And actually I can sustain longer distances without feeling taxed. Because I know from previous experience this won't last long, yes I'll still have the extra blood, but I'll start to get bigger and baby will start to crowd my lungs, stomach and my bladder, I'm gonna roll with it while I can! •••••••••••••••••••••••••••••••••• THE WORKOUT: Mile: 5:45 ( was 6:30 or so with same Effort about 3-4 weeks ago) ➡️2:30 rest 1200: 4:10 (20 seconds faster than 3 weeks ago, likely could have went 4:00, but was happy with the extra reserved pace) ➡️2:30 rest 800: 2:40 (easily 10 seconds faster than 3-4 weeks ago) ➡️2:30 rest 400: 65 seconds (15 seconds faster than 4 weeks ago) 100: 13 seconds (3 seconds faster than 4 weeks ago!) Because I was able to go faster I omitted the 1K between the Mile and the 1200 and left out the finishing 200! Left in the 100 because I wanted feel fast 😜. #motivationmonday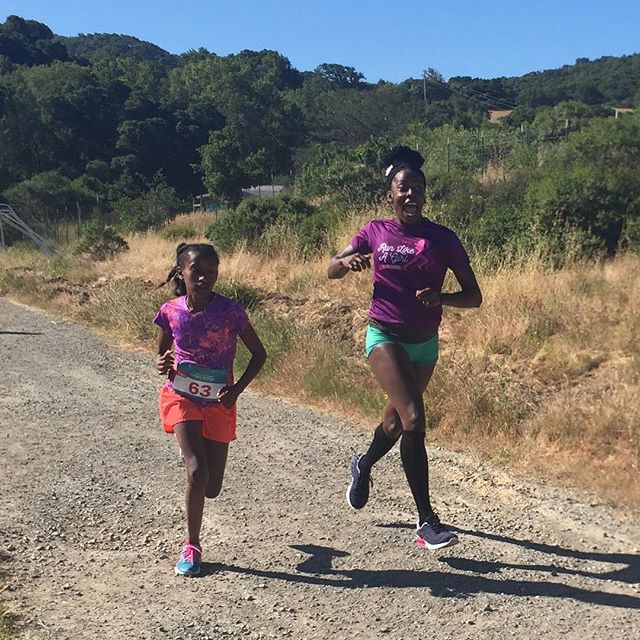 I don't think you can tell I had fun running the Bank of Marin #RunLikeAGirl 1 mile race today hosted by @titaniumracinginc ❤️ I'm running with the girls winner, Jasmine Hall, she unleashed the fiercest surges and kick of all time! Lil nugget in my belly had fun too 😝! Way to raise strong girls @sarahall3 and @ryanhall3 😍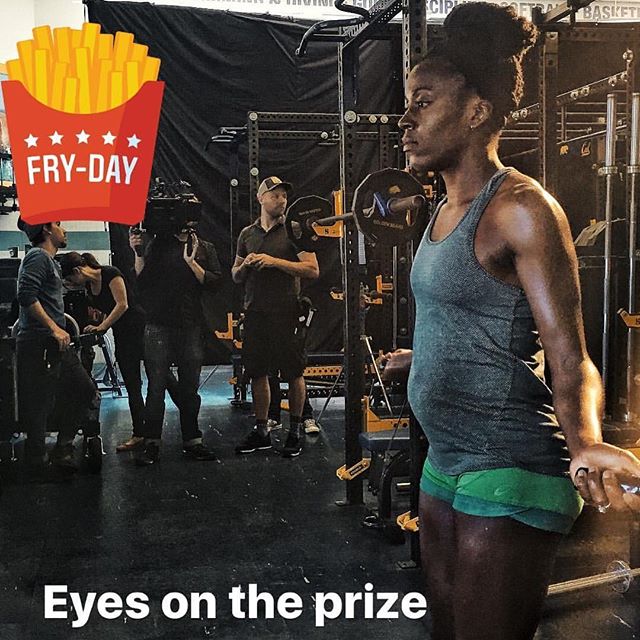 Me in the weight room right now! Happy Fryday y'all! I think I'll treat my self after three full days of filming, check out my insta stories to see more!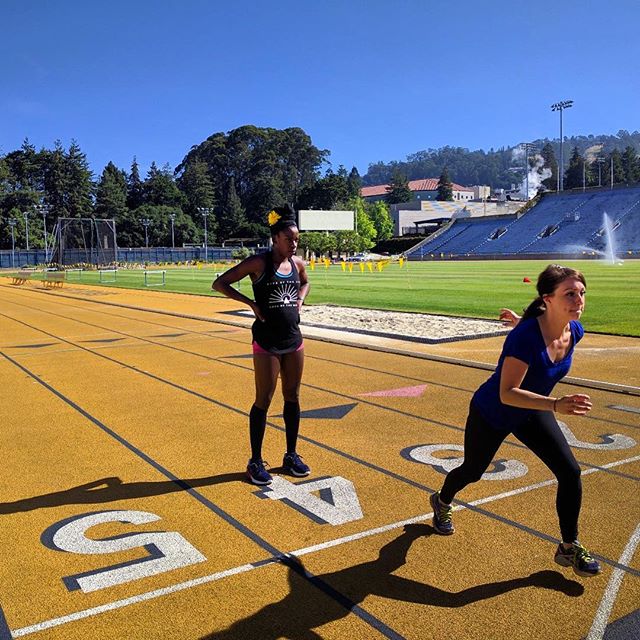 About last night. ➡️Taking directions on how to run from our film director @laurenfinerman 🎥 "aahh... That's how you do it!" 🏃🏾‍♀️😉 ••••••••••••••••••••••••••••••••••••••••••••••••• Last day of filming with @frenchpressfilms 🎬Can't wait to see the final product!!!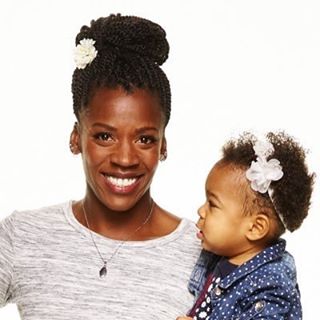 When your mom says you can have dessert after you eat all your vegetables and then she makes you a berry smoothie ... 😒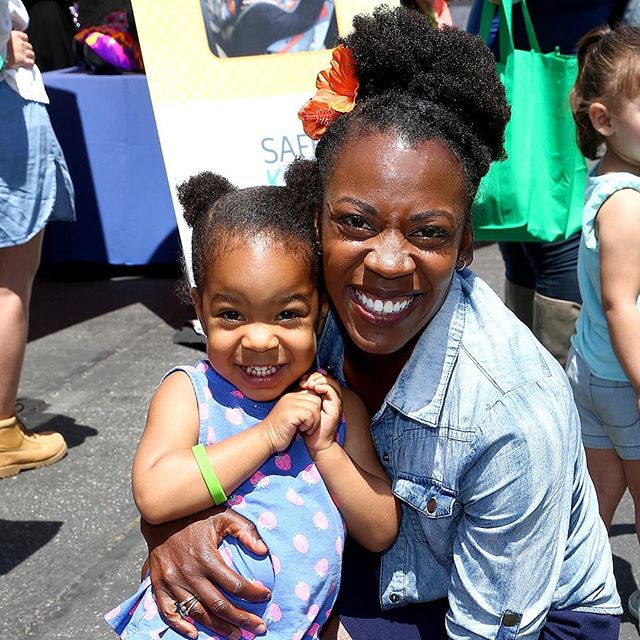 Our faces when we actually went and saw our newest addition jumping around in my belly! Linnéa is so excited, she literally screamed "Iiiimmm ssssoooo eeexxcccciitteed ahaha!" Cue the music!!!
🎶Work hard.🎶 Grind 'til you own it! 🌞 Suns out Bumps Out! ••••••••••••••••••••••••••••••••••••••••••••• Before my belly gets really big, restricting certain movements and the relaxin' hormones increase in my body preparing for the childbirth process, Im putting in some work on my hip flexor strength. • If you want to do the same just invest in a fitness band, I love them because they can go with you anywhere, great for travel workouts! • find a stable pole or object. In my home gym I attach it to my treadmill or my spin bike. • walk out until you feel moderate-hard resistance • begin by stepping forward and driving your knee up and forward in a running motion (keep foot dorsiflexed) then step back repeat x10 • then do it double tempo x 10 •then triple tempo x20! (Start with two sets and work your way to three!!) #motivationmonday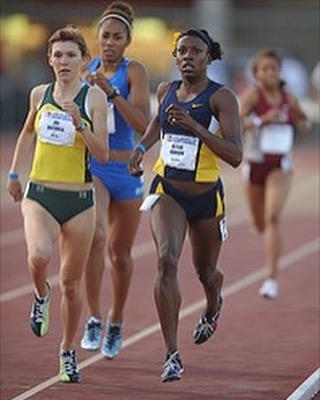 Final day of conference!! The answer to yesterday's question "What is my Conference Record Holding time?" Answer: 2:00.57 ! (2008) I'd run 1:59.29 my junior year in the previous season (2007), and would later run 1:57 over a handful of times in my professional career. 🤗Good Job to all who participated, there were some great guesses!! ••••••••••••••••••••••••••••••••••••••••• Today is the final day of PAC-12 Conference Championships. The women's 800 goes off at 4:30pm PST! Will my record fall??!! 😬🙌🏾. I've got two of my GOLDEN BEARS IN THE RACE!! Let's GO BEARS!! 🐻💙💛